Skype has announced version 5.11 for Mac with beta support for: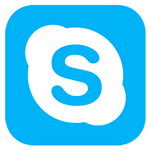 • Sharing Instant Messages with friends on Messenger.
You can now sign in with your Microsoft account (formerly Windows Live ID), and see presence as well as send and receive IM messages from your friends who are using Messenger, Xbox, Hotmail or Outlook.com.
• Improved Facebook integration.
You can now sign in directly with your Facebook account, without needing to first create a Skype account.
• Link Microsoft and Facebook accounts to a Skype account.
If you sign in with a Microsoft or Facebook account you will be offered the option to link your Skype account. If you choose the link option then Skype will display a combined list of friends. This is an area we are still working through so please let us know about your experience.
Different conversations can now be opened in separate windows by selecting this option in Preferences (General -> Open conversation in new window when I double-click in the sidebar). – skype.com