A new version of the NAVIGON iPhone navigation app is now available in the App Store. The free update 2.1 includes Google Street View, NAVIGON Cockpit (in app purchase), manual route blocking and other functions. Additionally, the NAVIGON apps for iPhone and selected in app purchases will be available at a reduced price until July 16, 2012.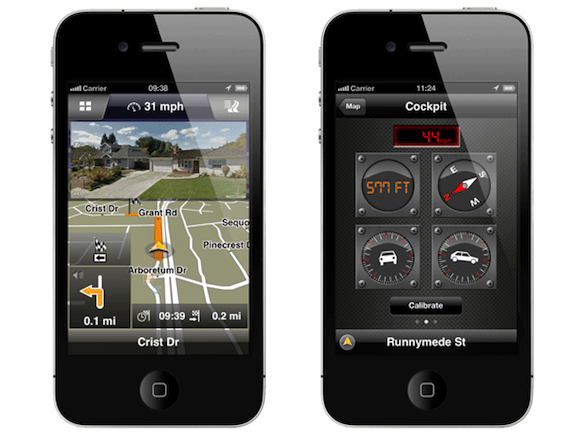 Google Street View
When using in-car navigation, it can sometimes be challenging to find the right building at your destination, especially if one can't recognize the house number without leaving the car. The new Google Street View function of the NAVIGON app provides users a street-level image of their destination before starting a route, helping, for example, to identify a specific building upon arrival. Users can even look at a full screen 360° view to get a better understanding of their destination's surrounding. Shortly before arriving at the destination, the Google Street View image slides in again, making it easier to identify the correct location.
NAVIGON Cockpit
A new Cockpit function displays relevant driving data in real time on a cockpit-like screen. Captured data includes gForce (current and maximum value), speed, horizontal and vertical position, and an adjustable speed and altitude graph. Drivers can use this information to see a snapshot of their driving habits. Also included is a dedicated off-road screen with compass and altitude information for off-road driving. NAVIGON Cockpit is available as an in app purchase for $5.99.
Manual Route Blocking
The new and easy to use manual route blocking function allows users to view their route on a map and block certain sections of it by simply tapping them. The app will then automatically calculate an alternative route. This feature is available in route planning mode and during navigation and allows users to better customize their route according to their own preferences. This is especially helpful when navigating in familiar territory, since users can avoid going through a certain city or taking a highway they'd like to navigate around.
Performance enhancements
In response to customer feedback, we improved the start-up time and map rendering performance of the NAVIGON app. Zooming and panning in the map view is now faster as well.
Also included in the app update are enhanced iPad retina display graphics and an optimized map manager interface with new controls for downloading and deleting maps.
Price reductions for a limited time
The North American NAVIGON apps and in app purchases are available at a reduced price until July 16, 2012.
NAVIGON USA: $29.99 instead of $49.99
NAVIGON North America: $39.99 instead of $59.99
NAVIGON MyRegion: $19.99 instead of $29.99
NAVIGON FreshMaps USA: $14.99 instead of $39.99
NAVIGON FreshMaps North America: $9.99 instead of $19.99
NAVIGON FreshMaps MyRegion: $19.99 instead of $49.99
NAVIGON Cockpit: $3.99 instead of $5.99